I won the B.O.W. Award!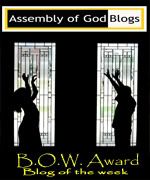 I have been informed that I am the winner of the
Assembly of God Blogs
"B.O.W. Award" this week. (B.O.W. stands for Blog of the Week.)
I'm so honored! Thank you Sharon, for bestowing this award on me, and thank you Laurie, for nominating me. These ladies are the bomb! (SMILE) If you click on the B.O.W. Award it will take you to the interview that they do with each winner and mine is posted there this week. Also, since I am the B.O.W. Award winner this week, the award will be displayed in each of my posts this week.
Thank you again...you are a blessing and I appreciate all of you who read my blog and especially those who let me know it has been a particular blessing to you in some way. I love you all.